All-Year Resolutions
---
The holidays are in the rear-view mirror, and shrinking. It's January … the start of a new year, and the traditional time to make (and break!) resolutions. How about turning over a new leaf this time around? Here are three New Year's resolutions that can help get you on your way to a more comfortable and cost-effective 2017, which will leave a little more green in your pocket for the next holiday season!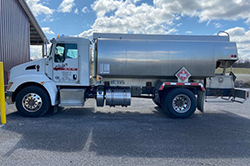 1) Install a digital programmable thermostat. Many homeowners discover that making a simple change from a manual thermostat to a programmable one is an easy way to realize both comfort improvements and cost savings. That's because they give you more control of your heating and cooling systems. This lets you put your energy dollars to work when your home is active and you need it most, and save energy when the house is empty or the family is asleep. Setting back a home's temperature by 10 to 15 degrees for eight hours a day in winter (or up 10 to 15 degrees in summer) can reduce total heating and cooling costs by as much as 15 percent. 
2) Insulate thoroughly. Proper insulation helps minimize heat transfer through your walls, ceilings and floors, and can yield significant savings on energy bills. The amount of insulation and type you'll need depends on the climate, type of heating and cooling system you have, and the part of the house you plan to insulate. According to the U.S. Department of Energy, sealing air leaks and properly insulating your home can help cut 15-30 percent or more off your energy costs, while also improving your home's comfort and air quality.
3) Schedule Routine Maintenance.You wouldn't drive your car for 10 years or 100,000 miles without changing the oil or replacing the brakes. That same logic applies to your home heating system. It's the routine maintenance and occasional TLC that keeps heating and cooling systems running right. Properly maintained HVAC equipment will have fewer breakdowns than those that don't get regular tune-ups, and your systems will run cleaner and more efficiently, which translates to better indoor air quality and lower energy costs. 
These three conservation tips will help put you on the road to improved home comfort and all-season savings in 2017. Your family will thank you, and when you see your lower energy bills, your wallet will thank you too! Contact us today for more great tips to conserve energy and save money this winter, and all year round!