Heating Services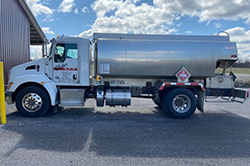 At Glider Oil, our services add value to every drop of fuel we deliver. We are proud to offer you the following conveniences:
Automatic Delivery
As a Glider Oil automatic delivery customer you never have to worry about running out of oil! Through a combination of your past fuel usage, recording daily temperature highs and lows, and a special computer program, we deliver your fuel when you need it. No watching your fuel gauge, no waiting for our truck to arrive, and no worrying about running out - with automatic delivery, you can relax knowing you'll always have enough fuel no matter how cold it gets.

Plus, as a Glider Oil automatic delivery customer, if you find your tank empty, there is no charge for an emergency delivery! To learn more and enroll in automatic delivery, contact us at 800-724-3835.


Propane Tank Installation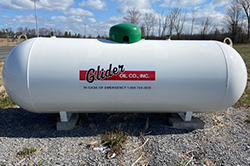 With a buried underground propane tank, you can enjoy all the benefits of this versatile fuel. Today's propane tanks are safer than ever, constructed of heavy steel and are painted with a special coating to prevent corrosion.

Environmentally friendly and requiring no maintenance, a propane tank will typically last for 30 to 40 years. We install a variety of tank sizes, depending on the need. Smaller 56-gallon tanks provide energy for appliances like clothes dryers and stoves, while 1,000+-gallon tanks can fuel very large homes with heat for the house, swimming pools and hot tubs. Generally, 500-gallon tanks easily accommodate an average four-bedroom home. Schedule your propane tank installation today! Contact us at 800-724-3835.


C.O.D. Delivery
Also called "Will-Call Delivery," C.O.D. gives you the opportunity to schedule Oilheat deliveries when you need them. If you do decide to receive your fuel on a C.O.D. basis, please call us 48 to 72 hours in advance to allow for a timely delivery during regular business hours. Inclement weather, as well as dangerous road conditions, can affect delivery time. Schedule your Oilheat delivery by contacting our office at 800-724-3835.


Emergency Delivery
Glider Oil offers emergency service for our customers for those times when you experience no-heat situations or serious fuel leaks (special delivery fees may apply). No matter what, Glider Oil is here to ensure your complete comfort. Learn more about our emergency delivery service by calling 800-724-3835 or using our contact form.


Propane Customers:
No minimum usage fees or tank rental charges. Contact us to become a propane customer today.


FREE GASCheck™ Safety Inspections
To ensure the safety of your propane gas system, Glider Oil encourages you to schedule an appointment for GASCheck™. Developed by the National Propane Gas Association, GASCheck is an important safety and preventive maintenance program for your propane system (including the tank and piping). Our propane pros continually receive GASCheck training, as new products and systems come on the market.

Your GASCheck takes about an hour, and we will provide you with printed materials regarding the safety of your propane system, which we recommend you read carefully. A GASCheck should be performed every two years to ensure safe and efficient system operation.

To schedule your GASCheck, please call or contact us.


Yearly Safety Inspections and Leak Tests for Commercial Customers
OSHA regulates that all commercial propane tanks have an inspection every 12 months. The inspection date and details (such as location and inspector number) are required to be printed on the side of the commercial propane tank. Contact us at 800-724-3835 to schedule your annual inspection.


Our Own Storage Facility
We own and operate a state-of-the-art bulk storage facility, allowing us to guarantee a constant, abundant supply of top-grade fuel, even during the worst Central New York winter weather. Having our own storage facility also allows us to buy our fuels in advance and pass the savings on to you. Contact us to learn more.