Budget Plan Prevents Oversized Bills and Locks Out Inflation
Glider Oil helps customers manage their heating oil and propane expenses with a budget plan. We estimate your fuel expenses for the year ahead and then divide the total into 12 monthly payments. At the same time, we provide "cap pricing," which ensures that your per-gallon price will never exceed our price cap.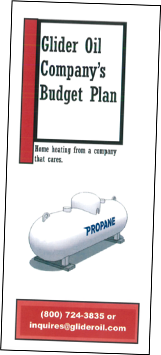 Click here for more details.
Rather than face unforeseen expenses due to extreme cold weather or spikes in fuel prices, you pay a predictable amount every month. A budget plan can prevent a midwinter budget squeeze, because you're paying a regular monthly bill instead of paying for each delivery as we make it.

Our "cap pricing" is a great benefit because it shields you from runaway energy costs. We are able to guarantee your price for the entire season because we buy insurance to protect the wholesale price that we pay. If our market price is higher than the cap price when we deliver to you, you pay the cap price for any oil you have reserved with the budget plan. If the market price is lower than the cap price, you pay the market price - and qualify for cash discounts. We also pay you a credit each month if there is a credit balance on your account.

We calculate your monthly budget amount at the beginning of the budget year based on the number of gallons you used the previous year and the new cap price. If you wind up overpaying, you can apply the balance to next year's budget plan or take your balance as a refund. If your payment amount is too low, we will notify you in February or March and increase your monthly payment amount.

Payments begin in July and end in June of the following year. To enroll in our budget plan, please call Glider Oil today or contact us online. Click here to review our Budget Terms & Conditions


Price Protection: Cap Pricing for Budget Plan Customers
Customers enrolled in our Budget Plan can also enroll in our Cap Price program, which protects you against fuel price spikes. Each fall, we set a capped, or maximum, price on your heating fuel for the winter season. If fuel prices rise, your price will not exceed the maximum price. If fuel prices fall, your price will also fall.


Pre-Buy Propane
With Glider Oil, you'll have the option to seasonally pre-buy your residential main heat propane. When you purchase your propane in advance, you'll have the peace of mind knowing that, if prices rise, your propane costs won't. Our Pre-Buy option cannot be combined with a Budget Plan or Assistance program. For more information on our Pre-Buy plan, and to request a Pre-Buy service contract, contact us.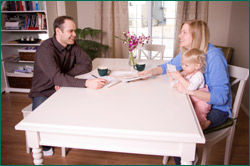 Automatic Payments
We can automatically deduct your monthly fuel payments from your checking account. This way, you won't worry about paying your Glider Oil bills on time. Please call our office or contact us for further information.


Early Payment Discount
At Glider Oil, the early bird gets the savings! We offer discounts for prompt pay on all heating fuels - fuel oil, kerosene and propane. If you pay your invoice within 7 days of delivery, you will get a 15 cent per gallon discount. (There is no charge for e-check or credit card by phone). For more information on our new terms, click here.


Payment Assistance Programs (HEAP)
Glider Oil participates in the federally funded Home Energy Assistance Program (HEAP) that helps low-income homeowners and renters pay bills for heating fuel, equipment and repairs. For more information on this program, or to apply, click here.